Do-It-Your "Self" Storage: Two Locations to Serve You
We offer weatherproof self storage units in North Bay and Callander, Ontario, to keep your high value and delicate items tucked away.
Are you a Callander location customer? Do you like our service? Please write us a Google Review here to share your experience.
---
Affordable Storage Unit Prices:
We're proud to say our units are a very affordable choice in the North Bay and Callander area! Contact us today for availability.
10′ by 10′ Units
$160
per month
plus applicable tax
10′ by 15′ Units
$190
per month
plus applicable tax
10′ by 20′ Units
$220
per month
plus applicable tax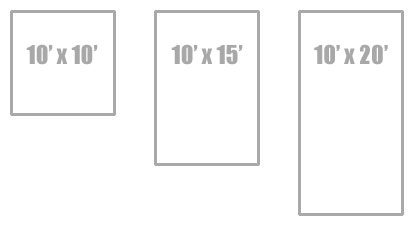 What Will These Units Hold?
How you arrange things in your unit will determine how much you can get into each unit but you will be surprised on how much you can store.
A 10′ x 10′ unit can store the furniture of about two full bedrooms, mattresses, many boxes.
Your 10 ' x 15 ' storage space can fit and will generally hold 2 to 3 rooms worth of furniture, many boxes.
The 10′ x 20′ unit is the size of an average garage and is generally ok for the contents of a 2-3 bedroom house.
---
North Bay Self Storage: Units Now Available


Our new North Bay location is now open and a variety of sized units are available for rent. It is entirely enclosed with fencing and backed by a steep berm. Access your storage unit 8 am to 9 pm through the secure gate. By appointment after hours access available. Contact us now to reserve your storage unit!
Features:
Brand-new location
Electronic gate lock with code entry
9 am to 9 pm access to the property
Month-to-month agreements
No longterm lease commitment!
Fenced, secure property
Monitored with security cameras
Callander Self Storage

Our Callander location is generally full, although sometimes spaces open up for a short time. Please call us to check – if we don't answer, our voicemail message will tell you what's available!
Features:
24/7 access to the property
Month-to-month agreements
No longterm lease commitment
Monitored with security cameras
North Bay Location:
136 Imperial Road
North Bay, Ontario
P1A 4M5
Callander Location:
897 Callander Bay Drive;
Callander, Ontario
P0H 1H0